Welcome to Inbound Connect
Empowering Logistics through Innovation
Launched in June 2020, Inbound Connect is a software and technology company dedicated to solving the long-standing problems that plague logistics operators and their clients.  Since our inception, we have achieved remarkable milestones, shaping the logistics landscape and revolutionising the industry.
With a collective experience of over 40 years in the logistics and technology space, our founders bring a wealth of knowledge and expertise to the table. Having personally managed logistics and transport facilities, our founders possess a strong understanding of the industry's challenges and intricacies.  Using innovative commercial models, they have been able to achieve outcomes that many thought impossible, outcomes that have changed the face of the logistics industry.
Throughout their journey, they have successfully implemented and managed industry-wide changes in the adoption of vehicle booking systems. Their solutions have extended their positive impact across ports, warehouses, empty container depots, and various other logistics facilities spanning Australia, New Zealand, Asia, and Europe—more than 100 locations in total.
Inbound Connect doesn't just provide solutions – we serve as trusted advisors, collaborating with your business to manage the transformative power of our world-leading vehicle booking system. Our ultimate goal is to optimise your logistics operations, empowering you to achieve new levels of efficiency and success.
At Inbound Connect we are driven by a passion for innovation, simplicity and putting our customers first.
Together, we can redefine logistics excellence and shape the future of the industry.
Inbound Connect Community
Joining the Inbound Connect community opens the doors to a wealth of industry knowledge, experience and expertise. Our vast network of over 50 logistics facilities encompasses the entire supply chain ecosystem. By becoming a part of this community, you gain access to invaluable resources and a strong support network, empowering logistics facility operators to thrive in a dynamic industry.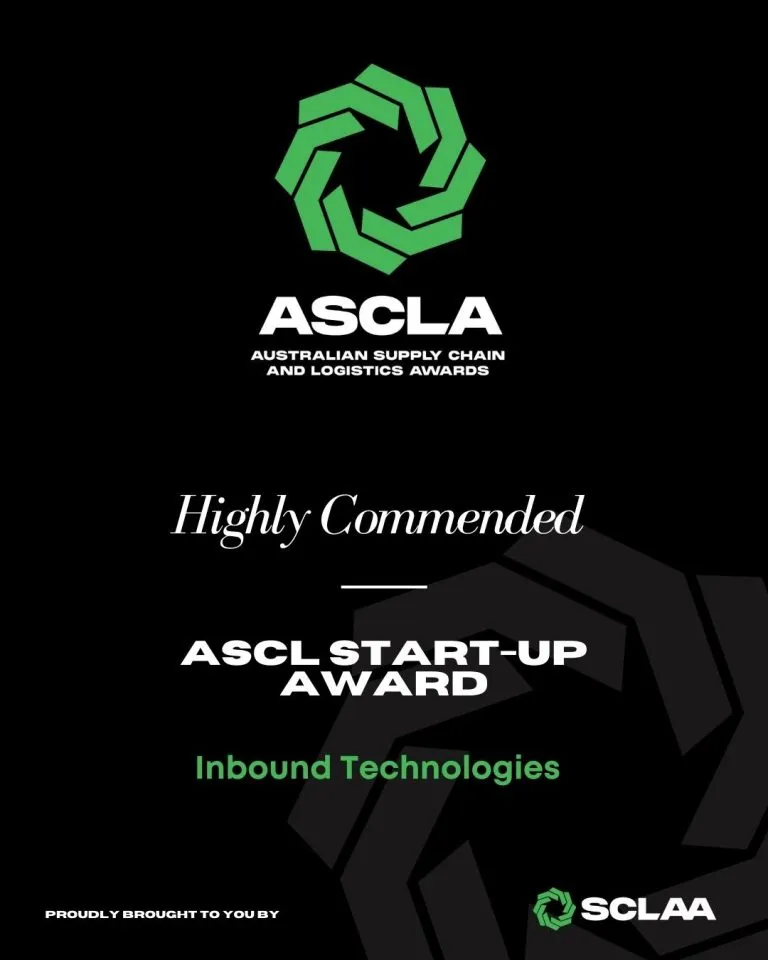 Journey of Innovation: Our Timeline
June 2020
Launched in June 2020 with our first warehouse in Melbourne Australia.
October 2021
We celebrated a significant expansion as the first port terminal joined the Inbound Connect community, broadening our reach and impact.
May 2022
Taking a giant leap forward, we proudly launched our automated payments platform for logistics facilities, streamlining financial processes and enhancing operational efficiency.
June 2022
Our commitment to excellence resonated with the industry as the 3000th transport company joined the Inbound Connect community, testament to our growing influence.
November 2022
Recognition of our dedication to innovation and exceptional service came in the form of "Highly Commended" awards at both the Australian Supply Chain and Logistics Awards and the Daily Cargo News Awards.
March 2023
Celebrating another milestone, the 50th logistics facility became a part of the Inbound Connect community, reinforcing our strong network.
Eco-friendly / Environment
At Inbound Connect, we are committed to reducing our environmental footprint and supporting our customers in their efforts to do the same.  From reducing truck idle time and futile trips to eliminating printing of physical paperwork, we make a practical difference every day.
Through our advanced software and innovative solutions, we focus on enhancing logistics processes worldwide, driving business efficiencies for a better world.
We take great pride in providing innovative solutions that transform logistics operations. These testimonials highlight the impact our platform has had on our clients' efficiency, productivity, and overall success.
Daniel Considine
CEO, Secon Freight Logistics
Partnering with Inbound Connect has been transformative for Secon Freight Logistics. Their innovative solutions streamlined our operations, improved efficiency, and reduced our environmental impact. Their commitment to sustainability and exceptional collaboration has created a trusted partnership. Thanks to Inbound Connect, we're leading the way in sustainable logistics while exceeding customer expectations.
Jim Stevenson
Managing Director, Stevenson Logistics
The Inbound VBS has been a revelation for us at Stevenson Logistics. As our business has grown over time, the pressure on our Fremantle facility has grown as well. We're a business that prides ourselves on using technology to improve our service, and implementing the Inbound VBS for the multiple functions at our entry gate has enabled us to provide a more efficient service to our clients and carriers, as well as a greater level of planning certainty to our operators. It's been a great result for us and I'd recommend it to anyone managing a logistics facility
Mark George
General Manager, Northern Stevedoring Services (NSS) Townsville
At NSS, using technology to improve our efficiency and service levels has always been important. Managing randomly arriving trucks has traditionally been an area we wanted to improve, as has greater visibility of dynamic vessel schedules and container availability. The Inbound VBS gave us the ability to make a step-change in the way we were able to operate, and has been really successful for our business.